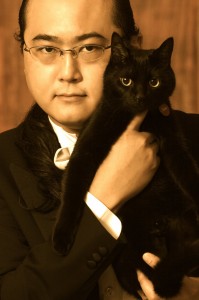 Jascha Y. Shimano was Born in Shizuoka, Japan. At the age of 16, he moved to Vienna, Austria where he studied the violin with Prof. Barbara Samonigg in Musikschule Stadt Wien and viola with Prof. Herwig Zelle, and Orchestra Conducting with Maestro Reinhard Schwarz† (General Music Director of the State Theater in Gärtnerplatz München, Germany), Maestro Vladimir Fedosejev (Artistic Director and Chief Conductor of the Moscow Radio Symphony Orchestra, former Chief Conductor of the Vienna Symphony Orchestra etc.) and Prof. Georg Mark at Konservatorium der Stadt Wien (Conservatory of the City of Vienna). He has also actively participated in masterclasses on conducting by Karl Österreicher†, Julius Kalmer and Ervin Accel. He graduated in 1998 in Conducting with highest distinction with unanimous consent from all professors in the Konservatorium der Stadt Wien. In the year 2000, his highly acclaimed performances were well received by audience and judges, and he was unanimously awarded 1st Place by the "Foundation Fesnojiv del gobierno de Venezuela" of the International Conducting Competition in Cartagena, Spain.
As a violist, he played in numerous orchestras, including as principal violist of the Bavarian Radio Youth Orchestra conducted by Maestro Kurt Sanderling, as well as playing in modern music specialist group "Ensemble Kontrapunkte" conducted by Peter Keuschnig and also at the  State Theater StadttheaterBadhall in Austria.
He was chief conductor of the Camerata Musica Wien from 1999 to 2003.  Since 2000, he has conducted various works including "Wiener Blut", "Im Weissen Rössel", "Die Csardasfürstin", "Die Fledermaus" with the Johann-Strauss- Operetta Wien on tour in Germany and Switzerland. He has conducted the Szombathely Symphony Orchestra (Hungary), Soli Deo Sinfonietta (Korea), Chernovisy Symphony Orchestra (Ukraine),  City of Elche Symphony Orchestra (Spain), Tokyo Philharmonic Orchestra, Japan Philharmonic Orchestra (Japan) etc, and has worked with numerous soloists including pianist Michie Koyama.
He was the Resident Conductor of the Penang State Symphony Orchestra and Chorus (PESSOC) since 2003 and was appointed as Music Director of PESSOC in 2006.
Being an avid classical musician, his passion lies in promoting classical music and the musical arts.